We had our Spring Meet this weekend with the MBBA, which is our annual huge party after all of our work is done.
We have all kinds of things going on the whole time but this is one thing I was awed by.
We had a woman come from the Mass. Audubon Society who was kind enough to take a group of us out on the beach into an enclosed area (for a few very short moments) to view a newly laid Piping Plover nest.
These birds are the reason for thousands of beach closures in the spring as they are endangered.
She allowed me very quickly to take a few pics.
They are not very good but at least I saw a nest for the first time.
Pic one, there are 4 eggs in her nest.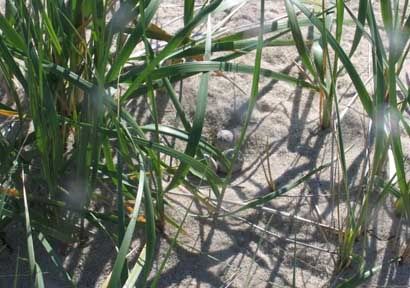 Pic 2 is of mama Plover and she is getting very angry. She is doing what they call The Broken Wing Dance: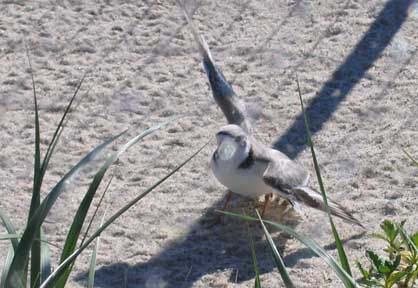 We had to skedaddle out of there quick so she could return to her eggs and the swish through the sand to
erase our footprints.
It was very enlightening for me.
The highlight of my weekend.
I am neither a Plover lover or hater.
I just wish we could learn to co-exist peacefully and stop all these beach closures.
The first thing that happened when we approached was that momma took off.
I was thinking what mother abandons her nest to save herself?
Hmmm? I wonder why they are endangered?
She was not gone for long though.
She came back and did the "broken wing" dance.
I am not sure if I was supposed to be frightened by this or if this was meant as some sort of decoy. Maybe a predator would go after her because she "seemed" injured.
I am going to look this up some more.
It was a great experience for me. I see the plovers all the time but never a nest or eggs. They are protected as soon as they arrive here. BEACH CLOSED!
I would really like to thank Sharon Fee of the Mass. Audubon society for this very enlightening experience.
I would also like to say that I think education is the best weapon to use in trying to bring this species back. What I learned will stay with me forever.
I am not sure why I have those white spots in my pics. I think maybe it is condensation as it was very early in the morning. I was rushed to take these pics, but it was still worth it.